artist statement

I am drawn to repetitive shapes and patterns and try to incorporate them in my work through found and recycled materials. I want my work to be inviting and playful and find myself heavily influenced by the vibrant color pallets California artists like Gregory Kondos, Richard Diebenkorn and Squeak Carnwath.
I am now fortunate to split my time between San Francisco and Santa Cruz and I benefit greatly from the inspiration that both environments and the surrounding nature bring me. When not in my studio, I spend my time entertaining friends and completing various, never-ending renovation projects around our small farm.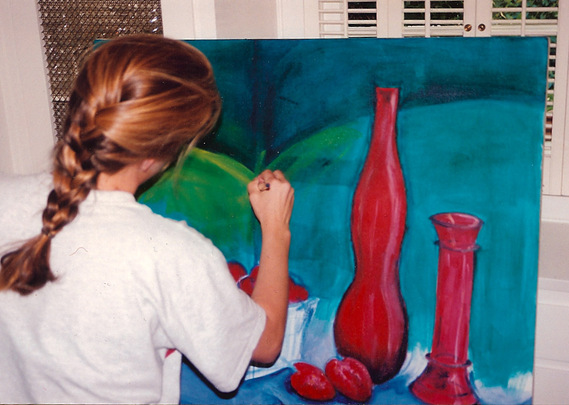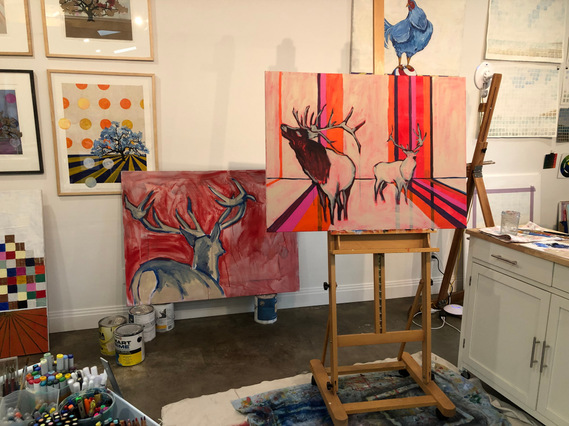 biography
Libby Mitchell attended the University of California at Berkeley where she received her Bachelors of Fine Art. There Libby was able to study under many notable artists, including Katherine Sherwood, Richard Shaw, Jane Rosen, Mary Lovelace O'Neal and John McNamara.

Upon graduation, she launched a career in marketing and event planning for Sotheby's, Electronic Arts, Ubi Soft and several internet start ups. Even as she found great success in her career, painting has remained her passion and she devoted as much time as she could find to honing her craft. Today she paints full time in her studio, located in the mountains above Santa Cruz where she lives with her husband Ben and their dog Wally.
Her work is included in corporate collections at Lululemon and the Jelly Bean Factory as well as private collections in California, Idaho, Utah, Georgia and Florida.
group exhibitions

2016 Jelly Belly Candy Palooza, Fairfield, CA
2020 Into the Oaks, Elliott Fouts Gallery, Sacramento, CA